Via MD DNR:
By: Keith Lockwood
All creatures big and small felt a welcomed relief Monday when temperatures and humidity dropped after a line of thunderstorms moved through the region Sunday. Water temperatures in the bay have dropped as much as 4 degrees in the past 24 hours and freshwater areas are seeing the same relief. Yesterday rivers and lakes could be seen steaming in the early morning chill. Hopefully this is the beginning of the hot and humid weather loosening its grip on the Maryland landscape.
The upper bay region is providing plenty of good fishing for striped bass from the Rock Hall area south to the Bay Bridge. There continues to be consistent chumming action at Swan Point, the channel edges at Love Point and the main channel edges outside the mouth of the Magothy River south to Sandy Point Light. There are plenty of spot to be found in the shallower waters and live lining spot has taken the forefront as the most popular and productive method to catch a nice grade of striped bass. There are bluefish in the upper bay also cutting through chum slicks and chasing schools of bait on the surface with small striped bass.
Trolling small spoons, bucktails and surge tube lures behind planers and inline weights has been a good option for those not wishing to chum or live line. The 30' channel edges are the place to be as well as near breaking fish. Umbrella rigs have also been popular items to troll.
Fishing for white perch has been good along shoreline structure in the mornings and evenings should improve with cooler water temperatures. Fishing deeper with bottom rigs baited with bloodworms over hard-bottomed shoal and reef areas in the bay and channel edges in the tidal rivers has been productive during brighter daylight hours. A simple sinker rig with two dropper flies or small jigs can also be very effective when fishing deeper waters.
The Bay Bridge piers and rock piles continue to hold striped bass that are providing good fishing for those live lining spot or jigging with bucktails. A mix of spot, croaker and white perch can be found in the shallower areas near the bridge piers.
Below the Bay Bridge boats have been anchoring up along the 30' channel edge from Dolly's Lump south to Chesapeake Beach and to a lesser extent along Brick House Bar south to Buoy 83. Just about all are live lining spot but a few are chumming with menhaden or razor clams.
Breaking fish are being encountered throughout the middle bay region this week on a regular basis. The surface action is often a mix of small striped bass, bluefish and Spanish mackerel chasing bay anchovies. Most of the striped bass are in the 14" to 16" size range but every once in a while a school of striped bass in the mid 20's will be encountered. In addition, a trick known to many is to jig underneath the surface action where larger striped may be lurking. Trolling is a good option with small spoons or surge tube lures behind planers and inline weights. It pays to place at least one large spoon out in a trolling spread for a chance at some catch and release action with the large red drum in the region.

Photo courtesy of Ted Macknovitz
Bottom fishing for white perch on oyster bottom has been good in the lower sections of the tidal rivers and spot and croaker can also be part of the mix in 20' of water or more. Bloodworms are the preferred bait for white perch and spot and peeler crab will work well for croakers.
The lower bay region seems to be blanketed with bluefish from one shore to the other. There are two basic sizes; the 14" to 16" and larger ones to 28" or more. The small ones tend to be in the tidal rivers and close to shore while the larger tend to be out in the main part of the bay at areas such as the Middle Grounds. Chumming is effective and there is the possibility of drawing in a cobia also.
Legal-sized striped bass have been showing up in greater numbers this week in the bay and Potomac River. Trolling has been one of the more popular ways to target a mix of bluefish, striped bass and Spanish mackerel. Small Drone and Clark spoons trolled behind planers or inline weights helps get lures down to where the fish are. Breaking fish composed of bluefish, Spanish mackerel and sub-legal striped bass are being seen throughout the region working on schools of bay anchovies and small menhaden.
Large red drum continue to be a popular attraction for anglers looking for some fun catch and release action. Trolling large spoons behind inline weights has been a good way to target them. It is not uncommon to spot disturbed water where a school of red drum are feeding and jigging with large soft plastics can be a very exciting way to tussle with one of these beasts. These two guys are certainly happy as they quickly pose with a double of red drum.

Photo courtesy of Travis Long
Bottom fishing for a mix of white perch, large spot, croaker and sea trout has been a wonderful plus for the lower bay region. Bloodworms tend to be the best bait for white perch and spot while peeler crab is the bait of choice for croaker and sea trout. The best croaker fishing continues to occur after sunset along channel edges leading to shoal areas but they can be caught deep during the day.
Speckled trout are providing some exciting opportunities on the Eastern Shore marsh edges and tidal guts and creeks for those casting white Gulp Mullet baits or drifting peeler crab baits.
Recreational crabbing has been having its ups and downs depending which tidal rivers you are crabbing in. Water temperatures and oxygen levels have had a lot to do with where the best or worse crabbing can be found. Up north, the Elk River where the C&D Canal flows in has been good but some of the tidal rivers north of Baltimore have been disappointing to some. The Magothy has been good and there are good reports from the Chester River and Kent Island area. In the middle bay region the Wye and Miles Rivers have been off and the Dorchester County area has been very good and the tidal rivers on the western side of the bay have also been good. The tidal rivers in the lower bay region have been very good to excellent. Those who travel farther up the tidal rivers report a lot more smaller crabs with the larger crabs being the deeper waters in the lower sections of the tidal rivers. Doublers are a common site this time of year and sooks will become a more common item in collapsible crab traps and trotline.
Striped Bass Water Quality Update
Based on the latest Maryland DNR water monitoring data collected August 8-10, 2016 there are still large areas of mid-bay deep water habitat (deeper than 25 feet) with oxygen conditions unsuitable for Striped Bass.

The Dissolved Oxygen video shows how the low oxygen areas increase over the summer months. Areas which are yellow and red have unsuitable oxygen levels for Striped Bass.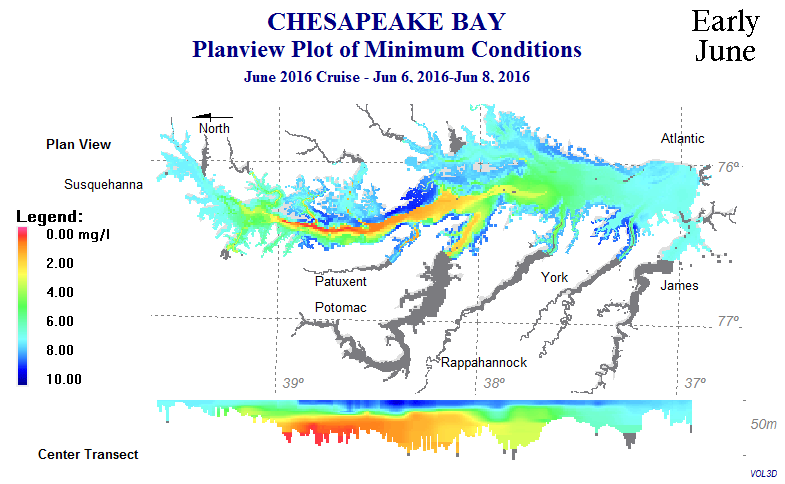 via GIPHY
While surface water temperatures are still warm, they have cooled to the low 80's from Patapsco down to the Potomac River, providing Striped Bass with more areas within their temperature range. Real-time Chesapeake Bay surface water temperatures are available measured at NOAA's buoybay.noaa.gov website.

Note: Data for the map is collected by both Maryland and Virginia monitoring teams and funded by both States and also EPA's Chesapeake Bay Program.
Finding Summer-time Striped Bass in Maryland's portion of the Chesapeake Bay
Anglers may want to explore the Chesapeake Bay bridge area from Rock Hall down to the Choptank River, at depths shallower than 25 feet, including surface waters.

The best fishing areas could be further refined by intersecting these prime areas with underwater points, drop-offs, large schools of baitfish and moving water.

These patterns will continue until there are major changes in weather such as high sustained winds, long periods of cool weather or rain.



Our freshwater areas such as Deep Creek Lake will slowly start to see a cool down now that evenings are getting cooler. This will be a welcomed relief for fish and anglers. Water temperatures are about 79 at the moment. The best fishing continues to be early morning and late evening with recreational boat traffic being a big factor in safety and peace of mind. Largemouth and smallmouth bass are being found around deep grass with topwater lures offering some fun action. In brighter daylight, deep diving crankbaits are a good option in these same areas. Chain pickerel and northern pike may also be encountered. Thick grass, fallen treetops and floating docks will hold bass seeking shade during the day where whacky rigged tick worms can entice a strike.
Largemouth bass and most other freshwater fish are still in a summer mode of behavior and early mornings and late evenings will offer the best opportunities in the shallower areas with cover. Topwater lures are a favorite for this type of fishing.
At the Ocean City area water temperatures in the surf and inlet are about 74 this week. The best surf fishing for a mix of kingfish, croaker, small bluefish and flounder has been in the mornings and evenings. At the inlet and Route 50 Bridge area there are sheepshead and triggerfish being caught near the structure of the jetties and bridge piers on sand fleas. Striped bass and bluefish are being caught in the early mornings and evenings and a mix of flounder, croaker and small bluefish can caught during the day. In the back areas flounder are being caught in many of the channels and there is also a mix of croakers and small bluefish.

Photo courtesy of Donald Lorden
Outside the inlet there are flounder being caught on some of the shoal areas along with croakers and skates. Farther out at the wreck and reef sites flounder fishing has been very good with a few sea bass being caught. At the 30-fathom fishing areas a mix of yellowfin tuna, skipjack tuna, dolphin and wahoo are being caught. At the canyons 461 Lump and Rock Pile a mix of blue and white marlin, yellowfin tuna, dolphin, wahoo, bigeye tuna and the occasional sailfish are being caught.
Boom...Morgan