(Polarized) Sunglasses and fishing go together like peanut butter and jelly. So when I came upon this article on
Hatch Magazine's website
(keep in mind this is not the
TRUE
Hatches Magazine
, but simply a copy of the original that was founded 5 years ago), I decided to reblog it here. I'm in the market for some new polarized dogs so this article will most likely make the decision for me. Check it...
Part One
It's not everyday that you begin a feature with a definition of one of the words in the title. Still, here we go.
Best
[best]: (adj.)
A standout amongst counterparts; of the highest quality, excellence or standing
. Now that you know what we think "best" means, take note that these are our opinions. None of us are opthalmologists, optometrists or otherwise experts on optics, nor can any of us every recall claiming to be so. That said, we wear a lot of fishing sunglasses and consider it very serious business. Trust me, if you're otherwise obsessed with gear -- and you're not currently obsessing over sunglasses -- boy, are you missing out.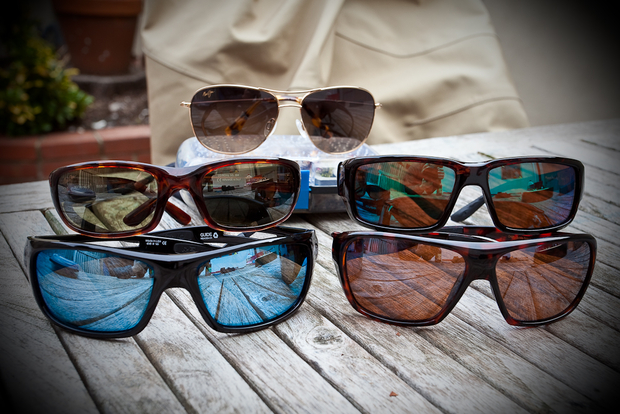 Frivolous obsessions aside, however, sunglasses are one of the most important and crucial pieces of gear in a fisherman's arsenal. While it's certainly not always true in fishing that you can't catch what you can't see, vision is one of the key aspects of the game. Sunglasses play a key role in how good your vision on the water is, so there's a lot to be said for getting it right.
The few selections that follow are our favorite of the glasses we tested during this past year. Some of these are new to market, some are not.
Smith Optics Chief Polarchromic Copper Mirror
Since they arrived, the Smith Chiefs have been perhaps our most go-to pair of glasses. This is due in no small part to their amazing versatility. There is little surprise in this fact, as we've been extolling the virtue of Smith Optics' glasses for years. Smith bestowed the Chief with their usual hallmarks: high quality plastic frames with an underlying metal core, metal spring hinges, Smith's TFT polarized glass, megol pads on the nose and temple and anti-reflective and hydroleophobic lens coatings.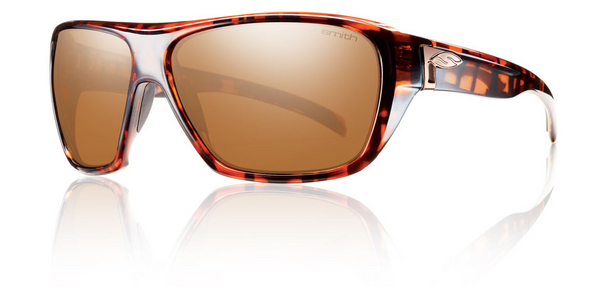 What We Liked
At the end of the day, the most important feature of a pair of sunglasses -- especially fishing sunglasses -- is their lens. Day after day, the lenses in the Smith Chief continue to amaze. Clarity is startling. As we're often changing glasses, returning to the Chiefs repeatedly elicits the same reflection on how crisp and clear the lenses are and how full of life the tone is.
The polarchromic lens which, in addition to being polarized, darkens and lightens depending on the amount of ambient light also seems to shine at virtually all times of the day and lighting conditions. The spring hinges and megol pads keep the Chiefs snugly in place and the frames wear surprisingly light for large framed glass-lens sunglasses. We also loved the large coverage on the Chief, matching or exceeding glasses we tested with aggressive wrap-around styling that made for great coverage but abhorrent styling.
Maui Jim Stingray HT / HCL Bronze
The Stingray and other models with Maui Jim's standard and much-loved HCL Bronze lens have been our go-to fishing glasses for many years now. Maui's HCL Bronze lens offers versatility and amazing optical clarity and has become the favorite of many fisherman around the world. After our recent testing of the Maui Jim Stingray with both the HCL Bronze and Maui HT lens, we just may have found the perfect 2-pair quiver of fishing sunglasses.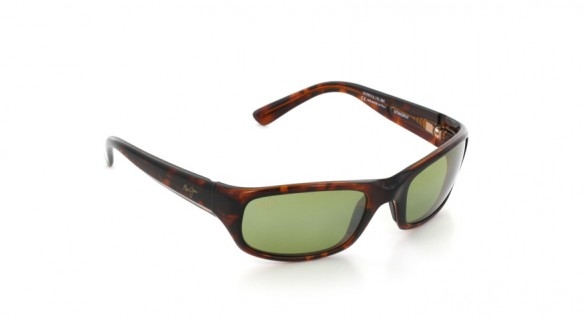 What We Liked
Maui Jim consistently excels beyond all other manufacturers in frame quality. Even compared to the aforementioned Smith Optics Chief, which rests significantly above the rest of the pack in regards to frame quality, the frames of the Stingray stand out. The sturdiness and well-constructed feel of Maui Jim's frames are immediately apparent, and the spring hinges seem bulletproof compared to flimsier competition.
As mentioned, the HCL Bronze lens is a versatile lens offering stunning optical quality and excellent polarization. It was our testing of Maui Jim's HT (High Transmission) lens that provided perhaps the biggest surprise of all the many pairs of glasses we tested. The HT lens is designed to offer better visibility in low-light situations such as early morning and evening while boosting depth-of-field and contrast. We unsurprisingly found it to do exactly that but were surprised at how well-rounded the HT lens turned out to be. Not only did the HT lens allow us to wear polarized lenses when other sunglasses we tested were much too dark (and we're talking very early morning and till near-dark in the evening), but they've become our all-day lenses on overcast days and also carried us through much of the day on all but the sunniest outings.
Packing the Maui Jim Stingray in both lens options may offer the best of all possible combinations. To be fair, a two-pair quiver of fishing sunglasses that come to the table at $215 per pair may not be in the cards for a lot of people out there. Given that, it's worth mentioning that either of these two pairs of glasses stand up to the competition almost as well on their own merit.
Part Two
Continuing from the first part of our
Best Sunglasses of 2011
feature, we detail the remaining pairs of fishing glasses we found to stand out from the competition.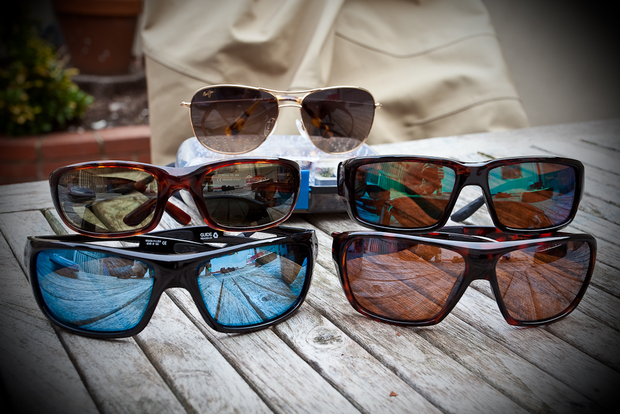 Costa Fantail 580G
Costa is one of the few companies out there that design sunglasses solely or primarily for fishing. While other companies have either had fishing as part of their focus for years or have grown their fishing focus rapidly in recent years, Costa is one of a select group that cares about fisherman first and foremost. And it shows. Costa's designs are built from the ground up with fishing in mind, not adapted as an afterthought.

What We Liked
The 580 glass is Costa's premium glass, and is heavier than its 400G counterpart. That said, we'd welcome a chance to test the 400 glass as well, given that the Costa Fantail 580G was by far the lightest wearing of all the glass-lens pairs we tested. In fact, there were times we wondered whether we received a pair with polycarbonate lenses by accident but as it turns out, these glasses are just that light. Costa claims that the 580 glass is offers the highest clarity on the market, and while we found offerings from Maui Jim and Smith Optics to be at least as clear if not clearer, we had absolutely no complaints with Costa's glass. The clarity was superb.
The other clear standout feature of Costa's Fantail (and most other glasses), a feature which no doubt is a genesis of the aforementioned fishermen-first thinking at Costa, is the full Megol coating on virtually every surface that touches your body. Familiar places like nose pads and temples are Hydrolite™ (similar to Megol) coated, but so is the entire underside of the frames. Every place these glasses touch you, they stick. Hang upside down, try to shake 'em off, they stick. Whenever we wore the Fantails, we ditched the leash. No matter what the conditions, these things just don't fall off.
Revo Guide with Water Lens
Revo's Guide sunglasses are part of a relatively new line by Revo which is geared toward people who spend most of their time on the water. Revo's Water Lens a polycarbonate plastic lens that is designed to reduce the impact of blue light, allowing greens and reds to shine through. While most at home in deep water locations (oceans and lakes), the water lens is also well suited to uses on streams and rivers. The Guide is built on Revo's Eco-Use platform, which is a nylon frame material made from the seed of the castor bean plant instead of petroleum. This makes Revo feel green and fuzzy inside, and they expect it will make you feel the same. The Guide also packs a whole host of other features, such as a hydroleophobic coating, high-contrast polarization, and an integrated leash system.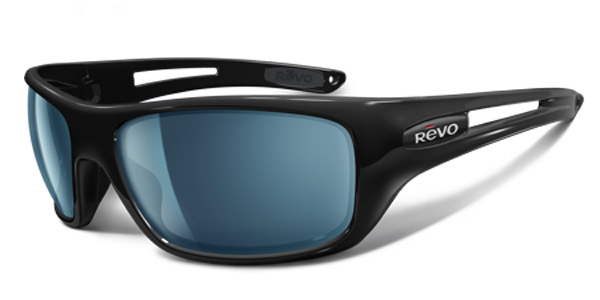 What We Liked
As a general rule, we're glass lens people. For me, personally, I've never found a pair of plastic or polycarbonate lenses that can stand up to glass lenses in terms of clarity and I've never understood the constant complaints from glass-lens detractors about how heavy they wear during the course of a day. The Revo Guide sunglasses have served to change my opinion on both these parts. These lenses are good. Are they glass good? Probably not. But don't be mistaken, these lenses are crisp and clear with excellent polarization. And that whole bit about how polycarbonate lenses are the solution for people who find the weight of sunglasses with glass lenses unpleasant? Apparently that's spot on. It's not that I've all the sudden realized that I unknowingly couldn't bear the weight of glass lenses -- they don't bother me -- but I have been introduced to the joys of how light polycarbonate is. These glasses are shockingly light, due both to their polycarbonate lenses and the Eco-Use frame material. On several occasions I, quite literally, forgot I was wearing them.
Not to go unmentioned is the Guide's integrated leash system. Revo has added this feature to the Guide and a few other styles. The glasses ship with an included leash that snaps into the frames at the temples. The result is a leash attached more snugly to your glasses than most traditional leashes and one that, more importantly, attaches seamlessly. No rubber pulling at the hair behind your ears, no big connectors digging into the sides of your head and driving you crazy. The integrated leash is a welcome feature that left us wondering why no one had thought of this before.
Maui Jim Cliff House
The advantages of building a best of list about something you're not experts on is that you get to make up the rules. Feet to the coals, we'd probably admit that there are other glasses better suited to the rigors of fishing than the Maui Jim Cliff House. That said, the Cliff House has served us well on many a fishing outing and will continue to do so into the future. The Cliff House packs Maui's HCL bronze lens, an excellent, versatile lens with superb polarization that is a fixture in fishing sunglasses around the globe.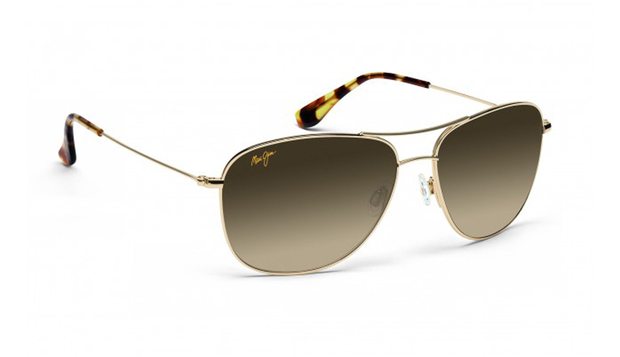 What We Liked
The Cliff House is an aviator-style pair of wire-framed sunglasses from Maui Jim. As a general rule, wire-framed glasses aren't most angler's first choice because of the fact that they're delicate compared to their plastic framed counterparts and because they usually have significant coverage issues. Plastic framed styles typically offer greater coverage, more commonly have wrap around styling, and block ambient light better. Wire framed glasses are much more subject to light bleed. The Cliff House glasses, however, are a larger aviator-style pair of glasses that offer significantly better coverage than other wired-framed styles we've tested (though they admittedly don't compare to plastic framed pairs).
They also wear very light. Even with Maui's HCL Bronze lens, the Cliff House wears as light as the Revo Guide we liked so much for its easy wearing. Still, the main reason for the Cliff House making our list is styling. Suffice it to say that without the aforementioned coverage and weight perks, we couldn't have included it, but given them we're able to include a break from the norm. After years of black and tortoise shell plastic frames, it's nice to change things up. And they look cool. You haven't forgotten that sunglasses look cool, have you? People start wearing sunglasses for the same reason they start smoking. One is a habit well worth holding on to, the other, not so much.
Conclusion
There are seemingly countless pairs of sunglasses on the market these days. Some come from manufacturers which hold quality and optics sacred while other come from style-first outfits. In today's day and age, though, you can have both. In recent years, there are more and more options designed specifically for those who fish available to us, as manufacturers focus more and more attention on a huge population of sportsmen and women to whom vision is paramount. Though there are no doubt dozens of other excellent pairs of glasses out there available to purchase, these represent our favorite of those we've had the privilege to test over the last 12 months. Hopefully, should you decide to dive in to any one of these pairs, you'll end up thinking we know what we're talking about.
Hope this helped you guys out as much as it did me. Sorry it doesn't give the price points but you can imagine they are in the $70-$200 range, its all up to your bank accounts, girlfriends/wives, and personal preference as to how much you'll spend and on what brand. Personally, I'm a
Knockaround
guy but they don't have polarized lenses...yet, so I'm a Costa guy.
Here's two ways you can get your hands on a pair of free sunglasses.
1. You have to be a photographer (or at least a dude with a camera).
2. You have to sign up for the contests (see below).
3. You have to win.
So how do you do it? Visit Hatch Magazine's photo contest
here
or Sport Fishing Magazine's photo contest
here
. Hatch Magazine is currently giving away some Maui Jim Guy Harvey Collab sunglasses and Sport Fishing Magazine is currently giving away some Costa Del Mar sunglasses. My entries are in...are yours?