Via MD DNR:
By: Keith Lockwood
Water temperatures in the upper bay are in the 85 degree range this week and this can mean some tough going for the larger striped bass. Due to low oxygen levels in many of the deeper areas the fish can not go deep to find cooler water. This week in the upper bay the locations that are holding striped bass tend to be the western side of the Craighill Channel from Sandy Point Light to Baltimore Light on the 30' edge. The 30' channel edge west of the Love Point Buoy has also been a good place to find striped bass as has the Swan Point area. Chumming is still popular but live lining spot and white perch is taking the lead as a better grade of striped bass is possible with these larger baits. There are a lot of 14" to 16" striped bass in the region and they tend to be suckers for a chum slick during a good tide. Sending cut menhaden baits to the bottom and back of the slick as quickly as possible will pay dividends in larger fish. Bluefish are present in the upper bay and will be part of the chum slick mix.
Trolling can be a good alternative and working the 30' channel edges is a good place to start. Most are having good luck with umbrella rigs or small spoons pulled behind inline weights or planers to get them down to the fish. Breaking fish comprised of small striped bass and bluefish can be found now and then and jigging deep underneath can pay off with larger striped bass. Laurel Leitner is all smiles with this striped bass she caught while jigging underneath breaking fish.

Photo by Lonnie Johnson
Spot have moved into some of the shallower shoal and reef areas in the upper bay's tidal rivers and can be caught on bloodworms. White perch are eager to take bloodworm baits over good bottom and medium-sized croakers are also part of the bottom fishing mix in the upper bay.
There is plenty of action to be found near the Bay Bridge piers and rock piles this week as a nice grade of striped bass are being found suspended near this structure. Live lining spot and white perch has been the most popular and productive method to catch striped bass. Jigging and chumming can also be effective.
There has been a lot of action below the Bay Bridge this week in the form of a mix of striped bass, bluefish and Spanish mackerel. The trio can be often found chasing bait along the eastern and western edges of the shipping channel, near the mouth of Eastern Bay, the mouth of the Choptank and Little Choptank Rivers. Most of the surface action is comprised of striped bass in the 14" to 16" size range along with 14" bluefish and speedy Spanish mackerel racing through the melee. Jigging deep underneath is a good option is larger striped bass are your goal. Karen Griswold is very happy with this nice Spanish mackerel she caught near the mouth of the Choptank River.

Photo courtesy of Karen Griswold
Boats have been anchoring up along the 30' channel edge from Dolly's Lump south to Chesapeake Beach on the western side of the shipping channel and south of Buoy 83 to Sharp's Island Light on the eastern side. Most are now live lining spot with good success but chumming is also popular.
Bottom fishing for a mix of spot, white perch and croaker has improved in many areas near the tidal rivers and oyster bottom. The spot and white perch can be caught during the day on bloodworms and the best croaker fishing is occurring along channel edges at sunset or later with peeler crab, shrimp or bloodworm baits.
Water temperatures in the bay are 85 degrees and even warmer in the shallower areas so the shallow water striped bass and white perch fisheries have really taken it on the chin. The best success is being reported to be in the pre-dawn hours and to a lesser extent after sunset.
The lower bay region continues to provide some exciting fishing for cobia out near the Target Ship and Mud Leads. Most are chumming and either drifting cut menhaden baits in their chum slicks or live lining spot and eels near buoys. Bluefish are being attracted to the chum slicks so live baits can really be in peril.
Breaking fish are being spotted throughout the region and usually they are a mix of bluefish and Spanish mackerel. Casting to breaking fish is always fun but trolling small spoons behind inline weights or planners is also very effective. Trolling large spoons and surge tube lures near the Middle Grounds to above the Target Ship has been providing catch and release action with large red drum and also the occasional cobia.
Bottom fishing for a mix of spot, white perch, sea trout and croaker has been very good in the lower bay region. The spot are being caught in the lower sections of the region's tidal rivers on bloodworms. The white perch can be found in 20" of water or so on oyster bottom and croaker are being caught after sunset on channel edges leading to shoal areas.
Recreational crabbing continues to be good in all regions of the bay. Salinities are up and crabs have moved farther up the tidal rivers and creeks. Crabbers do say that the largest crabs are being found in deeper water in many areas. In some areas such as the Dorchester County tidal rivers and creeks, crabs are being found in shallower waters. Cooler waters with plenty of oxygen are suspect. Razor clams continue to be the bait of choice.
Here is another map and updated results from the Maryland DNR water quality monitoring team, with new data on temperature and oxygen conditions in the Bay, and tips on locating summer striped bass.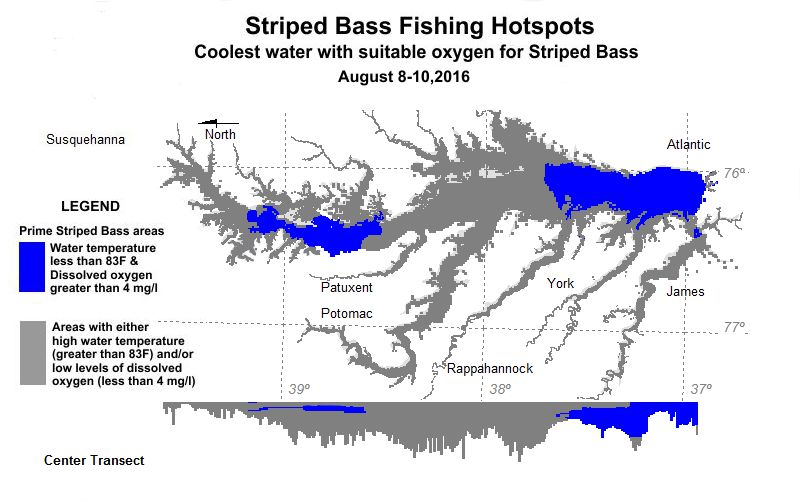 Striped Bass August 17 Hotspots Map, Courtesy of Tom Parham, DNR
Based on the latest Maryland DNR water monitoring data collected August 8-10, 2016 there are currently limited areas with suitable temperature and oxygen conditions for Striped Bass. The Striped Bass Hotspot map above identifies areas that are both cool enough and have suitable oxygen for striped bass.

Anglers may want to explore the Chesapeake Bay bridge area from rock Hall down to the Choptank River, at depths between 18 and 25 feet.

The best fishing areas could be further refined by intersecting these prime areas with underwater points, drop-offs, large schools of baitfish and moving water.

These patterns will continue until there are major changes in weather such as high sustained winds, long periods of cool weather or rain.

Note: Data for the map is collected by both Maryland and Virginia monitoring teams and funded by both States and also EPA's Chesapeake Bay Program.



Freshwater Fishing Report
Many of Maryland's freshwater fisheries continue to deal with the oppressive heat that has a grip upon land and water. There is some relief in the western region of the state where the cold water trout rivers and streams do better due to shade and cold water influence. At Deep Creek Lake smallmouth bass are being caught in about 15' of water over rocky bottom on deep diving crankbaits during the early morning hours. Smallmouth bass can also be found near or under floating docks over deeper water; casting whacky rigged stick worms is a good tactic for these fish. Largemouth bass can be found near grass or under floating docks late; whacky rigged stick worms in the mornings are one of the better options. Gabe Kiebler holds up a nice largemouth bass he recently caught.

Photo Courtesy of Jamie Kiebler
Largemouth bass are locked into a summer mode of activity where they move into the shallower areas to feed at night. Fishing these shallow areas at the crack of dawn or late evenings with topwater lures offers a lot of exciting action. Sunken wood, over hanging brush, thick grass or old docks are good places to find largemouth bass looking for a little cool shade. Flipping whacky rigged soft plastics or stick worms to these areas is a good bet. The Bassmasters Tournament on the tidal Potomac finished up last Sunday so there should be a little more elbow room in the region.
Ocean/Coastal Bay Fishing Report
Ocean City is starting to return to the normal summer time bustle after the White Marlin Open wrapped things up last week. It is always amazing the number of high dollar boats that come into port for this event and the payout for the largest white marlin. Only a couple of white marlin made the 70 lb minimum weight at the scales and a 76.5 lb. white wound up being worth over $2.8 million.
Kingfish are being caught in the surf this week with the best fishing occurring during the morning and evening hours. Bluefish can be caught on finger mullet and some croakers and flounder are also being caught in the surf.
Surf anglers should be aware that Ocean City has just enacted a new ordinance which affects folks targeting sharks from the Town of Ocean City beaches. Chumming is off limits and transporting baits with kayaks or any other means out beyond casting distance is prohibited also. For more information on the ordinance, please contact the Town of Ocean City at 410-289-8221, or see the Town's website at: oceancitymd.gov/oc/
At the inlet and Route 50 Bridge area, bluefish continue to move in and out and are providing some fun fishing by casting a variety of lures. Striped bass are being caught in the mornings and at night. The South Jetty is the best place to fish and boats have been catching a mix of striped bass, bluefish, flounder, sheepshead and triggerfish. In the back bay areas a mix of flounder, croaker and small bluefish are being caught by bottom fishing.
Outside the inlet there is good flounder fishing on the inshore wreck and reef sites; sea bass fishing has been fair at best. Farther offshore a mix of large bluefish, false albacore, wahoo and the occasional yellowfin tuna are being found at traditional 30-fathom locations. At the offshore canyons chicken dolphin and a few gaffers are being caught with white and blue marlin, yellowfin tuna and bigeye tuna.
It is that time of the year when dead marine mammals or sea turtles carcasses may be spotted floating in the ocean. It is important to report these sightings to the proper authorities and to not intervene with what is usually a very stinky situation.
Since these animals (dead or alive) are protected under the Marine Mammal Protection Act (MMPA) and/or the Endangered Species Act (ESA) only federally permitted individuals are allowed to handle them. Citizens, watermen, charterboat captains, other state agencies, US Coast Guard, the National Oceanic and Atmospheric Administration (NOAA), Maryland Natural Resources Police, and many organizations report floating or beached carcasses via our 800-628-9944 toll-free 24/7 number. A response is then mounted and the carcass is examined. We appreciate the efforts of all who report these amazing protected species to the Maryland Department of Natural Resources Stranding Response Program.
Boom...Morgan