Via
MD DNR
:
By: Keith Lockwood
Water temperatures in the upper bay and other regions of the bay are in the mid-80's this week and even higher in some of the tidal rivers and shallower areas. These high water temperatures are having a profound effect on fishing. Striped bass are trying to hold deep along channel edges but also must balance where there is sufficient oxygen. It is August and as surface algae begin to complete their life cycle and expire, they drift down into the depths of the bay and remove oxygen in the process of decomposition. This is a stressful time for fish and shellfish in the Chesapeake Bay.
Before we get into the statewide fishing reports, here are some more tips from the Maryland Department of Natural Resources water quality monitoring team which could help you locate more striped bass in the Chesapeake Bay during the hot summer months.
Finding Summertime Striped Bass in Maryland's portion of the Chesapeake Bay:
In late summer, high surface water temperatures coupled with the majority of deeper water experiencing low dissolved oxygen conditions force Striped Bass into a very narrow band of water. This is known as the "Striped Bass Squeeze." Striped Bass can tolerate water temperatures up to about 86F and oxygen levels down to about 3mg/l. However, these conditions are far from optimal.
Through Maryland DNR's extensive water monitoring efforts, we can identify areas best suited for Striped Bass. This monitoring also helps us understand current water quality conditions as well as track Maryland's progress towards restoring the Chesapeake Bay. DNR monitors Chesapeake Bay and its tidal and non-tidal rivers at 130 locations Statewide.
Data for the map is collected by both Maryland and Virginia monitoring teams and funded by both States and also EPA's Chesapeake Bay Program.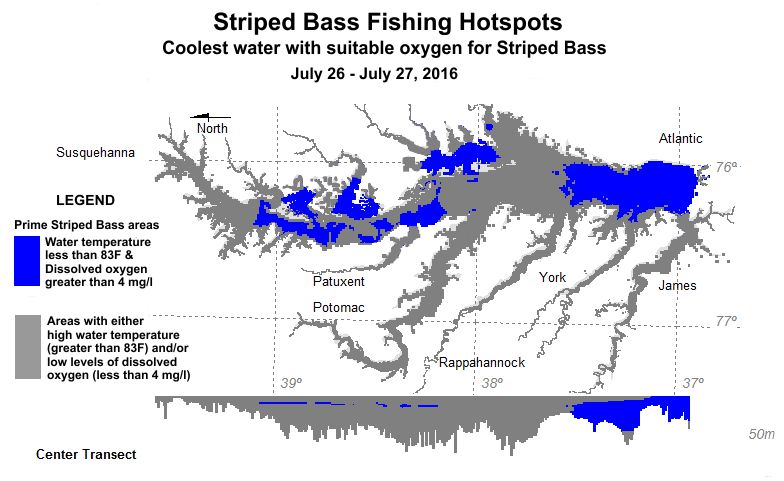 Striped Bass Fishing July Hotspots Map, Courtesy of Tom Parham, DNR



Results:
Based on the latest Maryland DNR water monitoring data collected July 25-27, there are currently limited areas with suitable temperature and oxygen conditions for Striped Bass. The Striped Bass Fishing Hotspot map above identifies areas that are both cool enough and have suitable oxygen for striped bass.
Anglers may want to explore the Chesapeake Bay bridge area down to below Eastern Bay, Choptank River, areas above and below the mouth of the Patuxent River at depths between 22 and 28 feet. Tangier Sound also has large areas of cool, well oxygenated water suitable for Striped Bass.
The best fishing areas could be further refined by intersecting these prime areas with underwater points, drop-offs, large schools of baitfish and moving water.
These patterns will continue until there are major changes in weather such as high sustained winds, long periods of cool weather or rain.
Next update:
The next Striped Bass Fishing Hotspot map update will be on August 15th and will be based on monitoring results from August 8-10, 2016 Catch and Release
Catching striped bass in the summer is very stressful to the fish. If you are practicing catch and release, please be prepared to get your fish back in the water ASAP. For more catch and release tips please visit dnr2.maryland.gov/fisheries/pages/catch-and-release.aspx
Statewide Fishing Reports:
The Conowingo Dam has been releasing water in the afternoons for power generation which helps cool down water in the dam pool and the river immediately below the dam. There is some striped bass fishing success in the tidal rivers near channel edges but most of the action is being found in the bay near some of the shoal areas and main channel edges. The Belvidere Shoals, Swan Point and Snake Reef are worth looking over and the Love Point channel edges continue to be a focal point for chumming. Dennis Cain was chumming near Love Point Buoy recently and sent in this picture of a nice striped bass he caught that was a bit tricky in being able to steal menhaden chunks from other fishermen before he met up with Dennis.

Photo by Pat McLinney
White perch are also feeling the effect of warm water temperatures and many of the larger perch have retreated to deeper waters searching for cooler water. There are still perch along shoreline structure in shallower waters but most are of smaller size. Bottom fishing on hard bottom shoals in the bay is accounting for the best grade of white perch with some medium size croakers with a few spot mixed in. Bloodworms are the preferred bait.
The Bay Bridge is a very good place to find striped bass this week; there tends to be plenty of them holding near the bridge piers, rock piles and to a lesser extent along the sewer pipe on the northeast side of the bridge. Chumming, chunking and live lining spot or white perch have been the most effective tactics. Trolling above the Bay Bridge near the Mud Flats and north to the Love Point area has been effective.
In the middle bay region some of the best striped bass action is occurring along the western side of the bay from Dolly's Lump south along the shipping channel edge to off of Chesapeake Beach. Chumming has been the most popular way to fish and boats can be seen anchored along the channel edge. There are also some chumming opportunities on the eastern side of the shipping channel from Buoy 83 south to Sharps Island Light. Bluefish are a big part of the mix and will be found in chum slicks or chasing bait. Trolling has been a good way to fish for a mix of striped bass and bluefish; spoons and surge tube lures (hoses) behind inline weights have been popular.
Breaking fish are becoming a common sight in the middle bay region and they tend to be made up of a mix of bluefish, striped bass and Spanish mackerel. There has been a lot of fine action around the mouth of Eastern Bay, the mouth of the Choptank, off Taylors Island and the western edge of the shipping channel. Casting to the surface action is always fun and jigging deep underneath is a good way to target the larger striped bass.
White perch fishing has been the best on live oyster bottom in about 20' of water this week with bottom rigs baited with bloodworms and peeler crab being the best choice. There are plenty of medium-sized croakers in the mix and also spot. In the early morning and late evening hours there is some ultra-light fishing action for white perch in the shallower areas along shoreline structure areas. The shallow water striped bass fishery is very limited this week due to water temperatures in the high 80's in the shallows. Most of the striped bass being caught are sub-legal. When bottom fishing there can be surprise catches such as a large black drum or a big channel catfish but in this case this big flounder is a real eye opener. Ryan Jones was bottom fishing near the mouth of the Little Choptank and reported that he and his girlfriend Angelina Watts caught several undersized flounder and then this one hit. This is an impressive flounder no matter where you're fishing but a special trophy for the middle bay region.

Photo by Angelina Watts
The lower bay region is blanketed with bluefish from little squirts of 14" up to 4 lb bruisers. They are providing plenty of action for those chumming or trolling in the region. Cobia fishing continues to be a big draw at the Target Ship and Middle Grounds areas. Chumming has been the most popular method to fish for the cobia. Trolling has been a good way to catch bluefish and Spanish mackerel this week; most are trolling a mix of small spoons and surge tube lures behind inline weights. Trolling large Drone spoons over by the Target Ship area and Mud Leads can get one in on some exciting catch and release action with large red drum. Adding large surge tube lures can also add the chance of enticing a cobia to strike.
Bottom fishing for a mix of croaker, spot, white perch with some bluefish and sea trout tossed in has been a real highlight in the lower bay region lately. Traditional locations in the lower Patuxent River, the Point Lookout area and Tangier Sound have been producing a very nice mix of fish. In the lower Potomac River from the mouth of the Wicomico River up past the 301 Bridge medium- sized blue catfish are extremely abundant. On the eastern side of the bay along marsh edges and creek mouths speckled trout are providing some exciting fishing.
Recreational crabbing in the tidal rivers continues to be good to excellent this week. The best catches are occurring in deep water in the lower sections of the tidal rivers on razor clams in the middle and lower bay regions. Smaller crabs and recently shed crabs are being reported farther up the creeks and rivers.
At Deep Creek Lake water levels are reported to be down and shallow grass is matting up. Largemouth bass are being found under this grass or under shallow water floating docks. Whacky-rigged stick worms have been one of the more productive ways to entice them to strike. Frogs have been a good choice over grass in the cove areas. Smallmouth bass are being found in 12' of water and small deep-diving crankbaits are a good choice to get down to them. The early morning hours tend to provide the best fishing opportunities.
The upper Potomac River received a bump in water levels last week and water temperatures dropped some making for better fishing opportunities for smallmouth bass. Loose grass has been an added problem and some of the best action has been occurring with topwater lures and whacky-rigged stick worms in the early morning hours.
Fishing for largemouth bass is typical for this time of the year; early morning or late evenings are the best time to be on the water. The largemouth bass are seeking cool shade during the day and only move into the shallows at night to feed. Whacky-rigged stick worms dropped through thick grass or to deeper structure is a good tactic. Flipping them under docks or overhanging brush is also a good way to reach a loafing bass. In tidal areas a low ebb tide is a good time to target the outside edge of spatterdock fields with spinnerbaits and shallow crank baits.

Photo courtesy of Jim Gronaw
Last month the Fisheries Service Hatchery Program stocked 8,000 tiger musky fingerlings into Triadelphia and Rocky Gorge combined, which should provide some exciting fishing opportunities in the coming years. Also 11,500 fingerling striped bass were stocked into Liberty Reservoir.
The big event this week in Ocean City is of course the White Marlin Open and with 329 boats entered and arriving from far away ports it will be a busy week around the docks. So far there is plenty of room for change on the leader board and several days left to fish.
For those seeking a little more subdued fishing experience there is good surf fishing for kingfish in the early morning and evening hours. Bluefish can be caught in the surf on finger mullet and a mix of inshore sharks can provide some fun catch and release action on large baits and heavy tackle in the evening hours.
At the inlet bluefish continue to move in and out with the tides when boat traffic shuts down. A few striped bass are being caught also in the evenings. During the day there are flounder in the inlet and Route 50 Bridge area as well as sheepshead and gray triggerfish near the South Jetty.
In the back bay areas flounder are the prime target and the flounder are spread out over a wide area. White Gulp baits have been accounting for some of the larger flounder being caught in the channels. Small bluefish and sea bass along with sea robins will keep those fishing with squid and minnows alert.
Out at the wreck and reef sites sea bass are being caught but the excellent flounder fishing has been taking center stage lately. Farther offshore at the canyons and beyond; the boats fishing the White Marlin Open are bring in a mix of white and blue marlin, bigeye and yellowfin tuna as well as dolphin.
Boom...Morgan